If no one depends on you financially, you may not view life insurance as a priority. If you have people or family who rely on you, you might want to have enough insurance for your family to pay your debts, and provide some income.
READ MORE
Types of Life Insurance
There are different types of life insurance: term life, permanent life, a combination of the two, and accidental death and dismemberment.
READ MORE
What Type of Life Insurance is Best for You?
Life can be confusing and complicated at times. Purchasing life insurance can be one of those times-but it doesn't need to be. Understanding the different types of life insurance can be easier than you think once you take advantage of the resources available to you.
READ MORE
Consider your circumstances and the quality of life you want your dependents to have when deciding whether to buy life insurance and how much you should buy.
Ask yourself the following questions to help you decide if life insurance is right for you:
Do you need to replace your income to provide for your spouse, children, or other family members?
Do you have debt, such as a mortgage, credit cards, student loans, or other debt?
Do you want to help your children pay for college?
Will your survivors need money to pay for your funeral costs or the cost to settle your estate?
Do you have a large estate that may be subject to state or federal estate taxes?
If you answered yes to any of these questions, you should consider buying life insurance.
When deciding which type and amount of life insurance is right for you, you'll need to answer these important questions:
What do you want the insurance to cover?
What amount of coverage do you need?
How long will you need the coverage for?
What's your budget?
Term Life Insurance
Term life policies are typically cheaper and less complicated than permanent life policies. Term life insurance is a policy that is typically sold with term periods of 5, 10, 15, 20, 25, or 30 years. Typically, the premium is designed to stay the same during the period of the term. Term life insurance is designed to provide inexpensive coverage during a time when many people need it most, such as when they're starting a family, paying off debt, or saving for college. Term life can be a good choice for young families with children. You might only need coverage until your children are adults and are earning their own income.
Permanent Life Insurance
Permanent life policies usually have higher premiums because they are designed to provide coverage for your entire life and have other features and benefits. The main feature of most permanent life insurance is a cash value or savings component that grows over time and may be withdrawn, invested, or borrowed against during your lifetime. Your initial premiums for permanent insurance are typically higher than for term life. There are two main reasons for this. First, the policy likely has a cash or cash value savings feature, and second, you're buying coverage for a longer period of time based on your current age. Generally, the premiums on a whole life policy are guaranteed for life, meaning they never change. Universal life or variable life insurance premiums may change over time. Be sure you understand how your premiums might change. You should consider your needs before deciding which type of life insurance is best for you. Buying a permanent life insurance policy and surrendering it early may not be a good financial decision. The two most common variations of permanent insurance are whole-life insurance and universal life insurance, also known as flexible premium adjustable life insurance.
Whole-life insurance remains in effect for your entire life unless you cash the policy in or stop paying premiums. Premiums in a whole life policy generally are guaranteed for the lifetime of the policy. The premium is used to pay for the cost of insurance, the company's expenses, profit, and to increase the cash value.
Universal life insurance allows you to choose the amount of coverage, the premium you pay, and potentially the cash value you build. Because of the flexible nature of this type of policy, it is imperative that you gain a strong understanding of the policy and how it works.
Comparing the Major Types of Life Insurance
Permanent Life

Term Life

Whole Life

Universal Life

Premium
Low initially but may increase with each renewal.
Higher initially than term life. Normally doesn't increase because it's based on your age at the time the policy is issued.
Flexible premium payments.
Protects you for…
A specified period.
Your entire life if you keep the policy.
A flexible time period, which may be your entire life.
Policy Benefits
Death benefits only.
Death benefits, possibly a cash and a loan value.
Death benefits (that may include a cash value), possibly a cash value, and a loan value.
Advantages
Ability to buy more coverage for a lower premium.
Generally fixed premium amount. Cash value accumulation. You may have loan options for the cash value.
More flexibility with your payments.  Cash value is credited with current interest rates.
Disadvantages
No cash value.  Coverage ceases at end of term unless it's converted.
May be expensive to cover a short-term need. Usually little to no cash value for a few years.
May be expensive to cover a short-term need. The payment isn't guaranteed.  Low interest rates can affect cash value, which may increase the premium payments.
Available

Options

May be renewable or convertible to a permanent life insurance policy.  Conversion typically means higher premiums.
May pay dividends.  May provide a reduced paid-up policy.  Partial cash surrenders permitted.
May pay dividends. Partial withdrawals are allowed.
Click to view or download a pdf version of the above table:
Comparing the Major Types of Life Insurance.pdf
Negotiating Life's Changing Needs
For most people, different times in their lives may require more coverage than others. Wherever you are in exploring how life insurance can help, several strategies can help you address your evolving needs and fit within your current budget. You can:
Buy a policy now that more than covers your current needs and may help protect your future.
Buy an initial policy now and then a supplemental policy later.
Start with Term and convert to Permanent later.
Purchase both Term and Permanent policies to get the benefits from the different features they offer.
Add optional features, also known as riders, to broaden the coverage that a particular policy provides.
When determining what to buy when, it is worth remembering that the younger you are when you buy, the more cost effective it will likely be.
How Life Insurance Can Change Over Time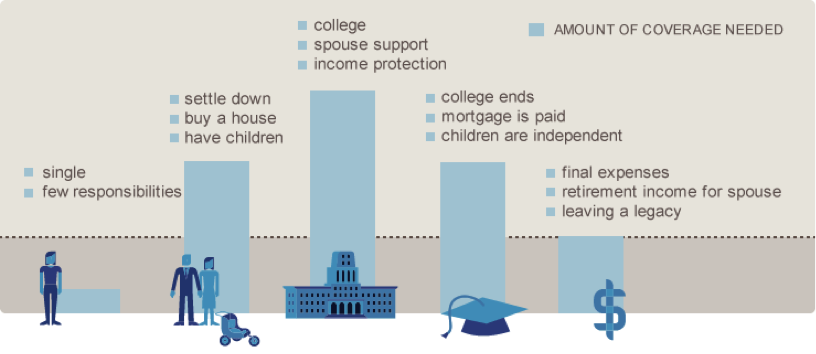 You need to make sure that you do not buy insurance that does not last long enough and conversely avoid purchasing permanent insurance for temporary needs.
The Value of Advice
Of course, some of the questions you may be asking yourself about your life insurance needs may lead to others. An insurance professional at Independent Insurance Services, Inc. can help you navigate these complicated questions and provide the product that is best for YOU!
QCFreequote.com can help you learn about the pros and cons of each type of life insurance, from whole life insurance to term life insurance and the variances within each type. You can then understand how policy rates vary, and what type of insurance is designed for each type of individual and their circumstances.
Whether you're new to life insurance or are reevaluating your current life insurance policy, it's smart to stay informed. This empowers you with confidence that you have the right life insurance policy to protect your family, one that fits your needs and budget.
See how easy it is to shop for life insurance. Get your free life insurance quotes today!
All information referenced on qcfreequote.com is intended to provide a basic understanding of policy benefits. In no way does it provide a definitive explanation to policy benefits and should be considered a basic learning tool. Coverage, language and definitions will be specific to your policy and the information on this website should not be referenced when determining active benefits.